This Christmas, a gift that also gives
This Christmas were offering you a gift for giving someone else a gift.
Our offer is a half price gift session for you plus 1, 3 or 6 session gift vouchers for Christmas for someone else who you want to give a special gift for.
This present is not just for Christmas!
We are offering you the opportunity of giving a gift of long term health and relaxation with these Christmas/New Year gift vouchers for someone you want to give a gift to.
Shiatsu is great for relieving stress and pain conditions by enabling your body and mind to relax deeply and regaining balance.
There are a choice of 3 different vouchers either in-house at Yo-Shiatsu Islington or onsite which means your session at your office/home and their session at their home/office.
Prices are:
Half price for you + 1 session inhouse = (£27.50 + £55) £82.50 or onsite = £97.50
Half price for you + 3 sessions inhouse = £195.00 or onsite = £255.00
Half price for you + 6 sessions inhouse = £360 or on site £525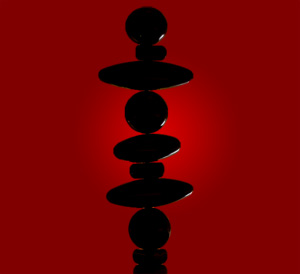 yo-shiatsu – your ki to a stress-free life
Yo-Shiatsu – based in Islington, London – offers Zen Shiatsu and Zone therapy treatments, a derivative of the ancient Japanese Shiatsu massage.
Zen Shiatsu, also known as Masunaga Therapy, is a form of Meridian Shiatsu, where the therapist uses not only thumbs and the palms of the hands, but also fists, elbows and knees to stimulate key parts of the body, along the connected meridian lines.
The purpose of Shiatsu treatment is to re-balance your body's vital energy ('Ki' in Japanese or 'Chi'/'Qui' in Chinese), so as to facilitate its own natural recovery and optimum health.
Shiatsu is particularly effective for pain (back, joint, or nerve pain, arthritis or sciatica), inflammation, stress, exhaustion, digestive disorders and immune system problems.
Shiatsu is not a 'quick fix' but rather a long term treatment which, over time, results in positive balanced health and vitality as part of a healthy lifestyle.
Yo-Shiatsu is run by experienced Shiatsu practitioner Ken Hettiarachi.
Operating from Islington, North London, Ken has been practising Shiatsu since November '07 when he set up Yo-Shiatsu. Since then he has provided Shiatsu to many individuals, organisations and events.
Ken specialises in Zen Shiatsu and Zone Therapy, which are effective in relieving pain and inflammation and improving health. He has experience in treating many conditions and illness/injury prevention.
Ken can visit clients in their home/office or clients can visit Ken's tranquil home studio in Islington for relaxed, unhurried and impactful Shiatsu. For best results a course of 6 sessions is recommended.
Ken works with private clients on an individual basis, and also with corporate and event customers who are looking to bring the relaxation and health benefits of shiatsu to their employees and delegates.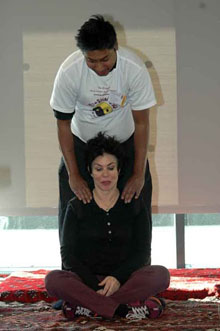 Understanding shiatsu
If you are new to shiatsu, you will likely have some questions. Allow us to guide you through the techniques, principles and objectives of this ancient Eastern therapy.
Buy sessions online
Clients can pay online for sessions, or purchase therapy gift vouchers for friends, colleagues or loved ones. All payments are made securely via PayPal™
Our clients
Yo-Shiatsu is predicated on a dedication to exceed expectations, and provide excellent customer care and quality of Shiatsu. We are very proud of our client reviews.
Contact Yo-Shiatsu
Please contact us if you would like to discuss your treatment, arrange a Shiatsu session or ask about gift vouchers. Ken would be delighted to speak to you at your convenience.
Understanding Shiatsu
At Yo-Shiatsu, Ken practices Zen Shiatsu, which is particularly popular in the UK and the United States.
It was developed by Shizuto Masunaga, a graduate of the Japan Shiatsu College who published a book entitled 'Shiatsu' in 1974. When the book was translated into English in 1977, the name 'Zen Shiatsu' was adopted.
Typically, a Shiatsu session lasts approximately an hour and fifteen minutes and starts with the recipient lying on the floor on a Shiatsu mat, fully clothed (please wear loose comfortable clothes and clean socks and also bring a jumper/cardigan in case you felt cold).
Clients can expect to experience an improvement in the immune system, a reduction in aches and pains and an ability generally to feel calmer and more able to deal with the stresses and strains of modern life.
At the outset, you will be asked for any relevant details of your medical history or existing conditions that may affect your treatment. The practitioner will then perform a diagnosis known as "Hara Diagnosis" by feeling subtle variations of the feel and pressure around the stomach to find out the main imbalances between energy channels/meridians.
The treatment will be applied with the recipient lying on their side, front or back. Typically, two positions will be used – for example front and sides, front and back, or back and sides.
The treatment consist of regular two point pressure applied by fingers, thumbs, palms, elbows and knees in various combinations in a calm and methodical way. The pressure is applied along the meridians on arms, legs, back, front or sides and combinations of rotation of joints, stretching of muscles, manipulating acupuncture points, energy zones and craniosacral holds.
The objective of the treatment is to bring about complete calmness, relaxation and peace to both body and mind – leaving the recipient feeling completely rejuvenated and revitalised.
The benefit does not simply stop at the end of the treatment – it also involves how the body reacts to this state over the following few days. As treatments progress, the feeling of calmness and balance (even in the middle of chaos) lasts longer and longer –  while pains, aches, stress, tiredness and other symptoms begins to disappear and the experience of balance and healthiness begins to appear.